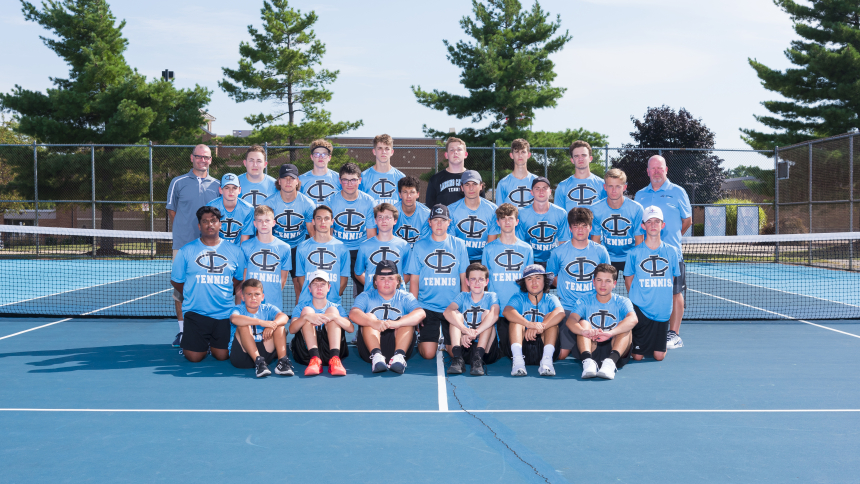 The weekend of October 14th-16th, the Lansing Catholic Boys Varsity Tennis Team had the privilege to compete at the State Championships at the University of Michigan Courts.
"We achieved all of the goals that we set for ourselves this year and had a pretty good season." Head Coach Matthew Golzynski said.
This is the first time the boys have made it to States since 2019. Coach Golzynski's strategy of creating a goal-oriented team carried them to their final goal of appearing at the State Championships.
Through season matches, quad games, and leagues they were able to take on each challenge one by one to earn them their spot at the end of the season. 
"The way that we played against Haslett and at the Holt Invite at MSU and at the Grant Quad. Those were all challenges and we accomplished good results from those. I am also happy with how we played in our league matches this year." Coach Golzynski said.
Although the outcome of the matches over the weekend resulted in the boys being eliminated in the first round, the boys, coaches, and parents have high hopes for the next season. 
"Each year is an interesting challenge as I try to 'build' the right squad. We have many good players returning next year and have a big and good group of JV players who are itching to play at the varsity level." Coach Golzynski said. 
The coaches and team captains are both preparing for the next tennis season, where hopefully the boys can continue to complete their goals, and reach further and faster beyond their finishing line.
---
About Lansing Catholic High School
Join the tradition of over 100 years of Catholic education at Lansing Catholic High School. With almost 500 students, we are large enough to offer a great variety of classes, activities, and athletics, yet small enough where everyone knows each other. The Lansing Catholic High School community forms students spiritually, intellectually, and socially into faithful disciples of Jesus Christ. For information on enrollment and registration at Lansing Catholic, please visit our Admissions Center.