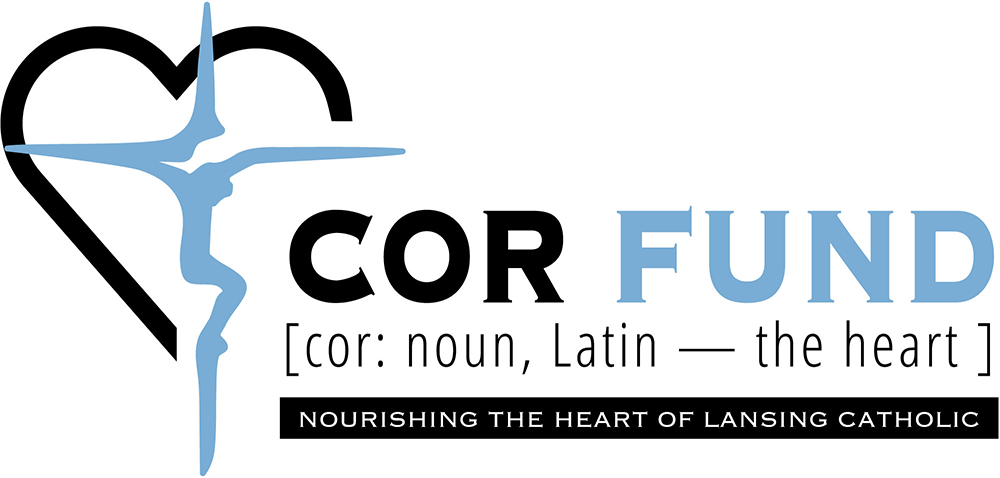 HAVE YOU HEARD ABOUT THE COR FUND?
Our annual fund, the Cor Fund, is the life blood of Lansing Catholic High School. Annual unrestricted gifts to the Cor Fund provide a crucial bridge between tuition revenue and the actual costs to deliver a quality Catholic education, directly affecting students and our outstanding faculty.  
Most importantly, a gift to the Cor Fund allows Lansing Catholic to respond to the most pressing financial concerns and provide the flexibility to seize unique and important opportunities that serve the school's vital mission. Simply put, your contribution will be used to do the most good.

ASK ME MORE ABOUT THE COR FUND!
The Cor Fund supports Lansing Catholic High School's greatest needs: tuition assistance, campus ministry, student counseling services, faculty retention and enrichment, technology supplies and student activities to nourish the mind and body as well as the soul.
Every dollar donated to the Cor Fund is spent towards supporting the students and faculty that current school year.  Each gift, regardless of size, is important! 
HOW TO GIVE TO THE COR FUND!
Lansing Catholic Families of every generation are united through the tradition of giving back.  Some contribute financially; others donate time and expertise; many provide a combination.  
Gifts of any size are greatly appreciated, but we also need your prayers as we continue the mission of Lansing Catholic High School.  Please pray with us as we work toward making sure that students from all backgrounds and means can experience a Catholic education.
A PRAYER FOR OUR SCHOOL
Most Sacred Heart of Jesus,
thank You for Your merciful love
and faithful care.
O Immaculate Heart of Mary,
thank you for your gentle touch
and strong protection.
We ask you both, in union of mind and heart,
to bless our Lansing Catholic High School community.
Pour out an abundance of favor and grace upon us,
draw us into communion, and show us what it means to love
in generosity of spirit and conviction of truth.
We entrust the heart of our school to you.
May the desires of your precious hearts
be fulfilled in us now and always.
Amen.
FOLLOW YOUR HEART...AND LEARN MORE ABOUT THE COR FUND!