De Porres House At-A-Glance
 Patron: St. Martin de Porres
 Color: Green
 Motto: Sirviendo a Cristo en el Pobre y Vulnerable (Spanish)
 Translation: Serving Christ in the Poor and Vulnerable
 Virtues: Perseverance, Generosity
The History of De Porres House
De Porres House is named for St. Martin de Porres. St. Martin de Porres is represented in our chapel in a beautiful stained glass window along the north wall.
In the 2018-19 school year, Mr. David Doherty was named the first dean of De Porres House. The following year saw a few changes, one of the most significant being the institution of School Captains, one student from each house chosen to represent the student body and help the house deans. Daniel Magaway was the first School Captain for De Porres House, elected in the 2019-2020 school year.
De Porres House Deans
Mr. Chad Wenzlick, 2022-present
Ms. Erin Ladd, 2021-2022
Mrs. Christen VanNewkirk, 2020-2021
Mr. David Doherty, 2018-2020
De Porres House School Captains
Isabella Schultz, 2022-23
Abby Morris, 2021-22
Jordan Kohler, 2020-21
Daniel Magaway, 2019-20
The De Porres House Crest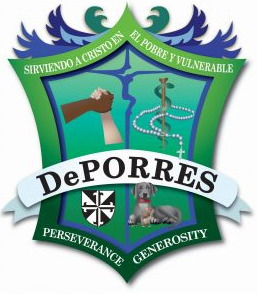 The crest was created by the students of De Porres House during the 2018-19 school year, and was first presented to the community during the last mass with the seniors of 2019. Inspired by the life and actions of St. Martin de Porres, the house crest is wrapped in a border of gradient green, our house color. The lettering across the top border is in Spanish, and the phrase reads, "SIRVIENDO A CRISTO EN EL POBRE Y VULNERABLE." When translated, it means, "serving Christ in the poor and vulnerable" which is something that St. Martin de Porres dedicated his life to, whether it was curing and working with the sick, or founding an orphanage for abandoned children. At the base of the border are the virtues of PERSEVERANCE and GENEROSITY.  St Martin was a perfect model of these two virtues, a model that we as members of De Porres must strive to live out in our daily lives. The acanthus leaves are a combination of green and blue, melding together our house spirit and our school spirit.
The four icons within the shield are inspired by the life of St. Martin, but are also meant to inspire us to follow his example. The top left quadrant is an embrace of two hands of different races.  As an individual of mixed race, St. Martin was harassed for much of his early life, but it never stopped him from serving Christ and helping those around him, a trait that we as a house desire to share. The bottom left is the shield of the Dominican order, which St. Martin served for many years. The top right corner is the "rod of Asclepius" draped in the holy rosary, symbolizing his gifts in medicine as well as his devotion to our mother Mary as a member of the Dominican order. The bottom right corner is a mouse surrounded by a dog which matches our window in the chapel of St. Martin, and represents his love for even the least of God's creatures and his amazing connection with animals.