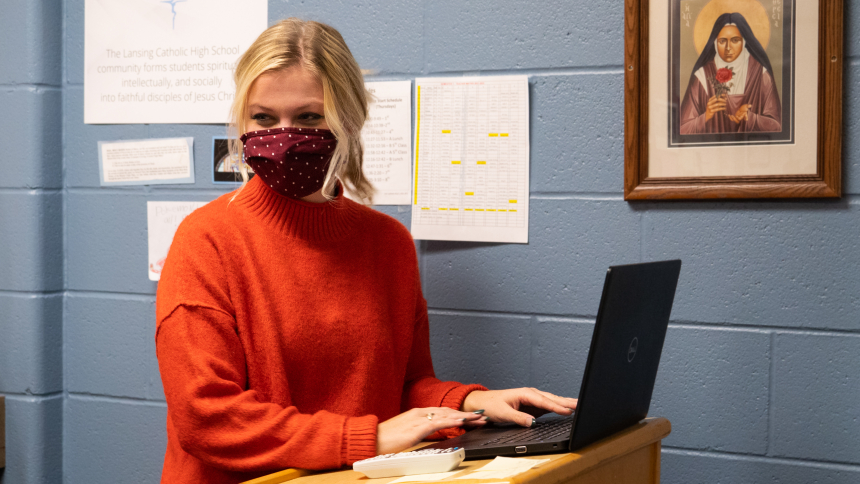 For some, she's a familiar face, pitching in to help when a teacher is absent. But look closer, and you'll see a leader who's not afraid to try new things.
Maddie Hopek helped out in the digital arts classroom for several weeks, while educator Steve Pohl was out for a brief leave of absence.
"I love subbing here because I get to learn so many new things and just getting the experience is great," Hopek said. "I've been able to try my hand at technologies I wasn't familiar with before."
Hopek doesn't just keep order while her students work. During quiet moments, she's been teaching herself how to use advanced computer software so she can better support her students.
Hopek's mother, who teaches chemistry at the school, has been a trusted advisor and support for her daughter. The two love working together and Ms. Hopek even gets to learn new things from her mom.
"Having lunch together and just being able to see each other while at work is fun," said Hopek. 
The younger Hopek has been a big help filling in for teachers here at Lansing Catholic—and the school looks forward to seeing more of her.
---
About Lansing Catholic High School
Join the tradition of over 100 years of Catholic education at Lansing Catholic High School. With over 400 students, we are large enough to offer a great variety of classes, activities, and athletics, yet small enough where everyone knows each other. The Lansing Catholic High School community forms students spiritually, intellectually, and socially into faithful disciples of Jesus Christ. For information on enrollment and registration at Lansing Catholic, please visit our Admissions Center.