Rivalries are a great way to build school spirit and identity. The recent MSU-UM football game reminded me of our own legacy school rivalries of green (Resurrection and Gabriels) and blue (St. Mary's and O'Rafferty).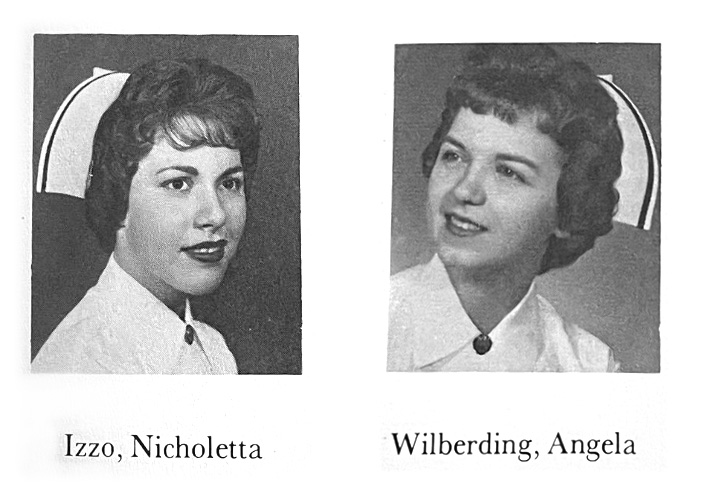 Nicki (Izzo) Shangle (M58) and Angie (Wilberding) Maki (R57) were students at Lansing's Mercy School of Nursing together and lived in a dormitory adjacent to St. Lawrence Hospital. Not only were they connected by their Catholic schooling at St. Mary's and Resurrection, but they also shared a bond of lifelong friendship.
Nursing not only brought these two rivals together but another classmate of Nicki's, Anne (Bennett) Wilberding (M58), who dated—and later married—Angie's older brother Wayne (R56). The three ladies were quite a trio. In the dorm hallways, there were shouts of "Nick-Toot-Ang" to announce to everyone else that the three were together and some fun was about to be had. When not working or under a house mother's watchful eye, they hung out at Lansing classics Emil's or Casa Nova. 
But that's not to suggest they were all fun and games. Those Catholic nursing students would rise at 5:00 a.m. to accompany a bell-ringing priest through the halls, reminding everyone it was time for communion or daily Mass. They also cared for aging and infirmed sisters. It was an intensive period of preparation that not all students made it through. 
After graduating from the program, Nicki worked on the Pediatrics floor and later joined the staff of Dr. Richard Carlson for thirty years. Angie initially worked the medical-surgical floor, then traveled around Michigan as a Red Cross nurse, and finally worked at the Dobie Road Care Facility as an education coordinator. 
The two are now retired but having left a legacy of caring with their patients and families, but it is clear that their friendship remains as vibrant as ever. They still have a special bond, sharing family births, weddings, and graduations as well as losses of husbands and family members. 
Through their stories filled with laughter, it's obvious their 60-year-old friendship runs deep. Having just celebrated their 80th birthdays together, Nicki shares, "We just eat and laugh. Just getting together is fun."
Angie adds, "We've been there for each other through thick and thin."
---
About Lansing Catholic High School
Join the tradition of over 100 years of Catholic education at Lansing Catholic High School. With almost 500 students, we are large enough to offer a great variety of classes, activities, and athletics, yet small enough where everyone knows each other. The Lansing Catholic High School community forms students spiritually, intellectually, and socially into faithful disciples of Jesus Christ. For information on enrollment and registration at Lansing Catholic, please visit our Admissions Center.