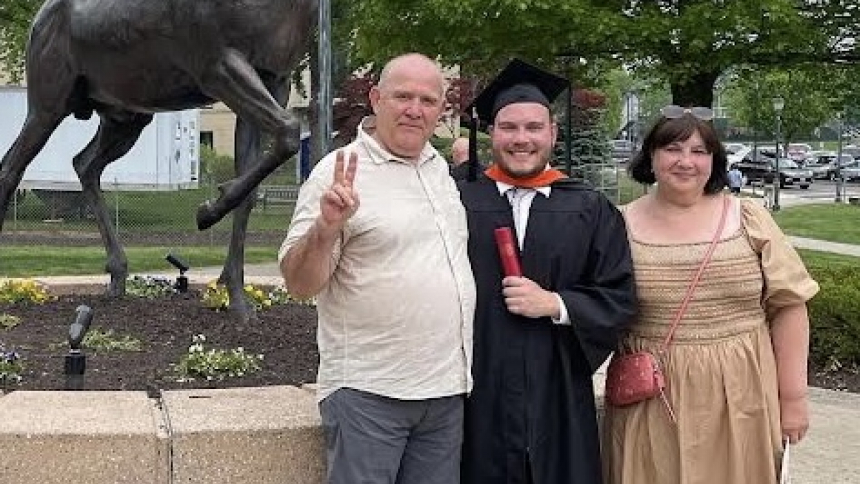 The current war in Ukraine is all too familiar to LCHS alum Kosta Kaldaras C18. When he was fourteen years old and living with his parents in Kharkiv, Ukraine and Crimea were invaded by pro-Russian forces. As the fighting grew worse and closer to their city, his parents were concerned for Kosta's safety, education, and future. Eight years earlier, Kosta's older sister Lora, had gone to study in the United States and they sought ways that Kosta could go to the United States as well.
As a Catholic school, the faith life that LCHS promoted was similar to the faith that the Koldaras family held. So Lora spoke with Tom Maloney C88, then president of Lansing Catholic. In very little time the wheels were in motion as students and staff quickly prepared to welcome Kosta who knew almost no English. Financial aid was provided to afford Kosta the opportunity but it took weeks before everything was approved for him to come to the United States.
"My parents told me I might be going to school in the States in the future and I said, 'okay, sure,'" Kosta recalls. "And then they told me in one or two weeks I would be flying out. I was confused and excited, concerned that I didn't know the language. The first two years were kind of tough. It was hard to communicate and I had to learn. The people at Lansing Catholic were very helpful to me all the time. In classes, I especially remember Mr. Murphy, he tried to teach me as much as he could." Kosta admits it was a slow process but once he learned English he started to make friends and participate in events.
Kosta graduated from Lansing Catholic in 2018 but didn't have much hope about attending college in the United States. That all changed when he attended a college fair put on by Madonna College. Kosta and his sister met a representative from Fairfield University who was very helpful in making connections for him so that his tuition was fully provided. Kosta graduated with a degree in electrical engineering in May 2022 and has signed on to accomplish a one-year master's in engineering at Fairfield. Kosta has found "the community at Fairfield is very similar to Lansing Catholic. It is a Jesuit school, small and caring, and they try to get students to experience their religion and require theology classes each semester."
When the current war in Ukraine began, it raised new concerns about Kosta's parents, who still lived there. "It's a very difficult and horrible situation. My parents witnessed some attacks but were still safe." In mid-March his parents immigrated to the United States and are seeking asylum while living with his sister, Lora, in East Lansing.
With his parents safely in this country Kosta is delighted. "I never thought they would come to my college graduation, so it's good." And his advice to alumni and friends who have the opportunity to welcome Ukranian refugee is simple: "Try to make them feel at home. The Lansing Catholic community did a good job with me. They made me feel welcome."
---
About Lansing Catholic High School
Join the tradition of over 100 years of Catholic education at Lansing Catholic High School. With over 400 students, we are large enough to offer a great variety of classes, activities, and athletics, yet small enough where everyone knows each other. The Lansing Catholic High School community forms students spiritually, intellectually, and socially into faithful disciples of Jesus Christ. For information on enrollment and registration at Lansing Catholic, please visit our Admissions Center.