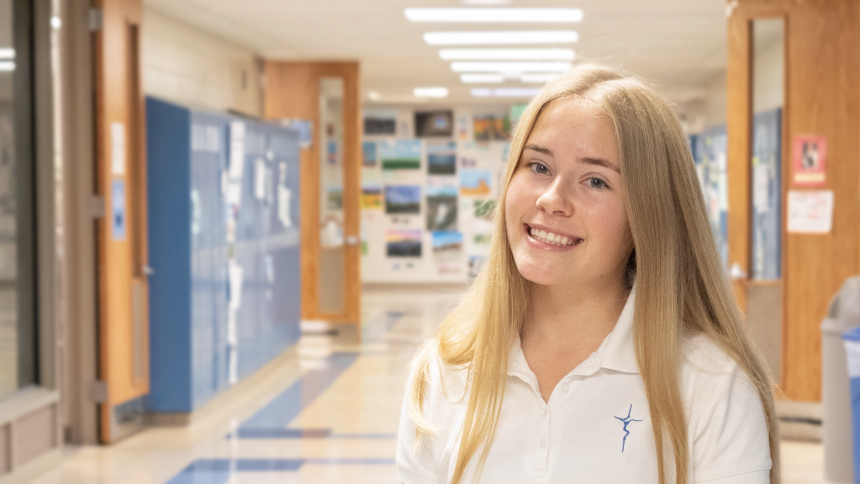 As an eighth-grade student at St. Patrick's Catholic School in Portland, Tessa Roe had many options when it came to high school. The one she chose, however, was Lansing Catholic.
The 30-minute drive? All worth it, she says.
"I wanted something bigger," Roe says. "I wanted to play basketball, and I knew Lansing Catholic would offer me the kind of opportunities I needed to try for a good college team."
Along the way, Roe has found friends, knowledge, and talents she didn't know she had. She pulled in an All-State cross country title this year and has big plans for this year's basketball and track seasons.
But that's not all.
"There's so much to experience here," Roe says. "I made a lot of close friends right away. So even though I thought this school would feel bigger and maybe a little closed off for me, it wasn't that way at all. I am friends with people from all different grades, and everyone is so welcoming and kind."
Roe also appreciates the many opportunities LCHS offers to help her grow in faith.
"Faith is incorporated throughout the entire day, in every class," Roe says. "I love going to Mass here, and adoration every week. It's really nice that I don't have to separate the academic, athletic, artistic and spiritual pieces of myself when I go to school. I can be all me, all the time."
In the future, Roe plans to continue exploring her interests in digital arts and English. "I enjoy chemistry too, but I'm definitely less of a science person," she says. "I'm also hoping to do a mission trip at some point."
---
About Lansing Catholic High School
Join the tradition of over 100 years of Catholic education at Lansing Catholic High School. With over 400 students, we are large enough to offer a great variety of classes, activities, and athletics, yet small enough where everyone knows each other. The Lansing Catholic High School community forms students spiritually, intellectually, and socially into faithful disciples of Jesus Christ. For information on enrollment and registration at Lansing Catholic, please visit our Admissions Center.