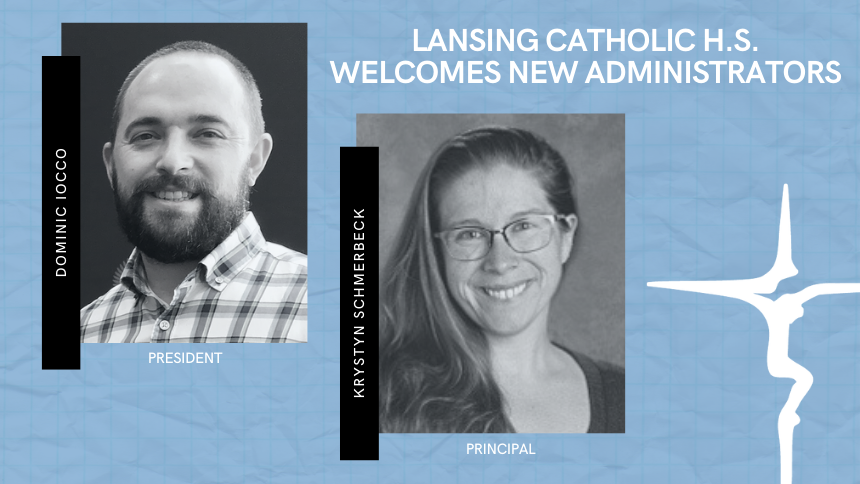 FOR IMMEDIATE RELEASE
May 18, 2020
NEW PRESIDENT AND PRINCIPAL HIRED FOR LANSING CATHOLIC HIGH SCHOOL
Most Reverend Earl Boyea, Bishop of Lansing, has named Dominic Iocco of Hurdle Mills, NC as the new President of Lansing Catholic High School and Krystyn Schmerbeck of Dumfries, VA as the new Principal of Lansing Catholic High School, effective July 1, 2020.
Mr. Iocco previously served as President of Jet-Hot Coatings for the past five years.  During his time at Jet-Hot Coatings, Mr. Iocco was responsible for increasing aftermarket sales, building a robust digital marketing system, with an effective Customer Relationship Management driven sales process.  Prior to Jet-Hot Coatings, Mr. Iocco served as Provost and Professor of Business and New Media at John Paul the Great Catholic University in San Diego, CA.  Mr. Iocco brings skills in Leadership, Financial Management, Fundraising, Board Relations, and Public Speaking to Lansing Catholic High School.  
Commenting on his appointment, Iocco said, "I am honored to serve as the next President of Lansing Catholic.  It is a blessing to join a community that has been a shining example of educational excellence during these difficult times.  The fact that LCHS moved seamlessly into remote learning when so many other schools struggled is a testament to the parents, students, faculty, and staff.  This fall will bring its own set of challenges, but Lansing Catholic is prepared to deliver academic excellence in every scenario. I'm very excited to help lead this faith-filled community and build upon such a strong tradition of forming young men and women spiritually, intellectually, and socially into faithful disciples of Jesus Christ."
Ms. Schmerbeck brings nine years of educational experience most recently at Saint John Paul the Great Catholic High School in Dumfries, VA where she taught all levels of Latin.  She also has experience coaching field hockey and lacrosse.   In addition, Ms. Schmerbeck brings leadership experience with the school House System, the Servant Leadership Association, and the Latin Honor Society.
In response to her new leadership role as Principal, Schmerbeck said, "I am excited to undertake the privilege of serving as the next principal of Lansing Catholic High School. I firmly believe that all Catholic education involves teaching a way of life such that all members of the Lansing Catholic community -- students, families, faculty and staff -- grow into the men and women Christ calls them to become.  I am eager to join this community and meet all of its beautiful members."
Tom Maloney, Superintendent of Catholic Schools for the Diocese of Lansing, stated "As disciples of Jesus Christ and servant leaders, Dominic and Krystyn bring the skill set, experience and desire to advance and fulfill the mission of Catholic education to form saints and scholars.  I am very excited to welcome them both to our Lansing Catholic High School Community."
Mr. Iocco has a Master of Business Administration from the University of Phoenix and a Bachelor of Arts from Central Michigan University.   He resides with his wife, Kate and together they have eight children.  They look forward to returning to Michigan and being near family in St. Johns, MI.
Ms. Schmerbeck has a Masters in Public Policy from George Washington University and a Bachelor of Arts in Philosophy and Classical Languages from Hamilton College, in Clinton, NY.  Krystyn will be relocating to Lansing from Northern Virginia where she has lived for the past 12 years.  She looks forward to discovering the beauty that Michigan has to offer.
For a PDF copy of the full release, click here.