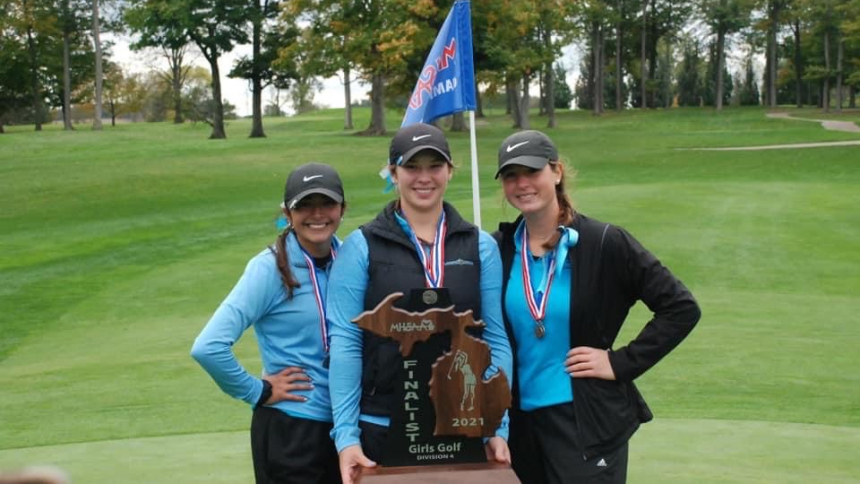 The LCHS varsity girls' golf team fell just short of taking the state championship Saturday at MSU's Forest Akers East, closing out a season marked by success and collaboration.
Although the team was tied at the end of the match, a tiebreaker with returning champ Montague resulted in a second-place finish.
"The high point of yesterday was knowing that everyone on the team did their best even though we didn't get the result we wanted/deserved," said LCHS senior Amanda Melling, who tied for third individually and even achieved a 30-foot putt. "We were all there for each other and fought super hard."
Other top finishers included senior Sailor Somerville, who tied for fourth, and senior Maya Blonshine, who finished 18th.
"I shot a personal record of 77 and was surrounded by many of my family members. It was a very special day for me, especially as a senior," Somerville said. "The high point of Saturday's round was teeing off on hole 17 and seeing a giant group of family members, friends, classmates, LCHS Staff members, and even some LCHS parents all supporting our team. I was able to finish my last two holes with them watching and it felt amazing." 
Lansing Catholic is working to retain the state title, which it last held in 2012. But even without the big trophy, the season has held tremendous success and fulfillment for LCHS team players.
"I love to play golf because I love to be outside," Melling said. "Golf is also a sport where you can always work to get better. I love Lansing Catholic golf because we are a family and I love the coaches and team."
---
---
About Lansing Catholic High School
Join the tradition of over 100 years of Catholic education at Lansing Catholic High School. With almost 500 students, we are large enough to offer a great variety of classes, activities, and athletics, yet small enough where everyone knows each other. The Lansing Catholic High School community forms students spiritually, intellectually, and socially into faithful disciples of Jesus Christ. For information on enrollment and registration at Lansing Catholic, please visit our Admissions Center.