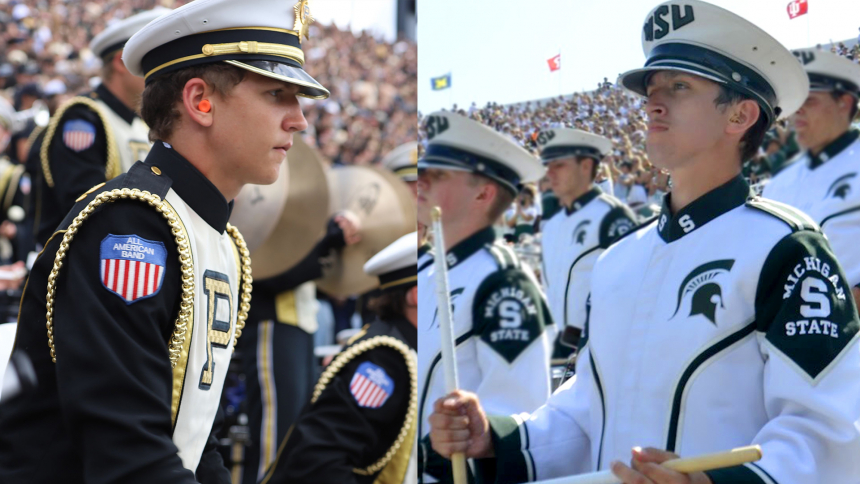 Marching band alumni from Lansing Catholic High School Class of 2020 took the field this year at Purdue and Michigan State University, showing off the musical and field skills they learned right here in Cougar Stadium.
David Perez at MSU and Logan Tietsort at Purdue are both sophomores this year and credit their deep preparation to their success in making the cut at the collegiate level.
"Music is all practice," said Tietsort, who plays the quads at Purdue. "At any audition, you feel nervous, but I felt more confident this year because I knew more of what I was doing."
Having played the oboe since fifth grade, Tietsort switched to percussion later on. He says the COVID-19 pandemic helped him gain more experience before he took the field, while Perez says he benefited from tapping into the past knowledge of others.
"What definitely helped me was reaching out to alumni and current members of the MSU drumline," Perez said. "They had a bunch of knowledge and tips that absolutely helped me during my audition."
Both Perez and Tietsort chose their own paths at their schools of choice.
"MSU is one of the best and I have always wanted to be one of the greats," Perez said. "My parents were the most supportive of me, they put up with drumming every day and helped me pay for lessons."
Tietsort also credits his mom and others around him.
"Not only is she my mom, but she is also my teacher," Tietsort said. "I'm also grateful to David for making their time together on the Lansing Catholic drumline something to remember."
---
About Lansing Catholic High School
Join the tradition of over 100 years of Catholic education at Lansing Catholic High School. With almost 500 students, we are large enough to offer a great variety of classes, activities, and athletics, yet small enough where everyone knows each other. The Lansing Catholic High School community forms students spiritually, intellectually, and socially into faithful disciples of Jesus Christ. For information on enrollment and registration at Lansing Catholic, please visit our Admissions Center.