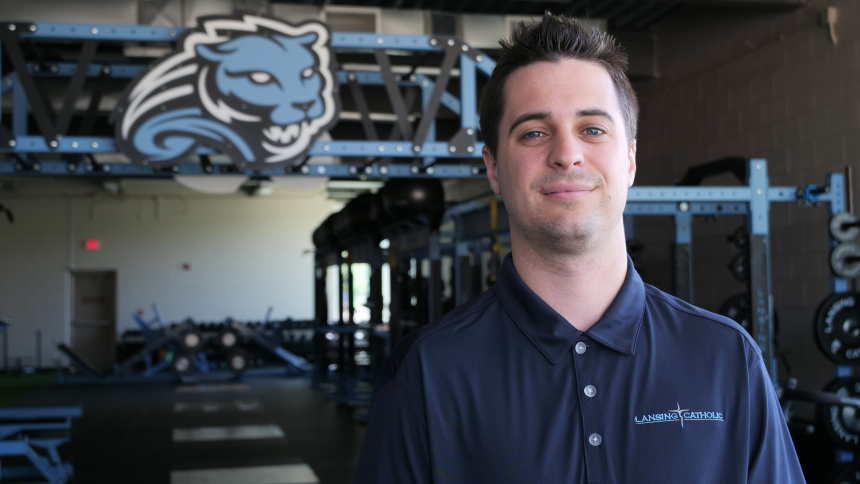 LANSING, MI: Athletic Director Ken Hintze is pleased to announce the hiring of Jake Bullock as the Varsity Boys Basketball Coach at Lansing Catholic High School.  
"One of the four cornerstones of Lansing Catholic is tradition, as we welcome a new coach we thank Coach Dartt for all he has done for the program and his players over the last 4 years. Building on the solid foundation that Coach Dartt has paved, I am excited at the opportunity in front of us to bring Coach Bullock back home to Lansing Catholic High School," said Hintze. "What separated Coach Bullock from other applicants during the interview process were his ability to connect with the kids, his attention to player development, and his overall vision of the future of Lansing Catholic Basketball. I look forward to the many seasons to come for Lansing Catholic Cougar Basketball!"
A graduate of 2012 Lansing Catholic High School, Bullock attended Aquinas College where he was a four-year captain of the Aquinas College Basketball team. He scored 1,843 career points which ranks sixth all-time at Aquinas. In 129 career games, Bullock averaged 14.3 points per game and was a two-time NAIA All-American. 
Bullock previously served at Western Michigan University as Graduate Manager, Director of Basketball Operations, and most recently as one of the youngest Assistant Coaches in the NCAA. 
"Can't say how excited I am to be back home," shares Bullock. " Looking forward to building the program and getting back into the Lansing Catholic community!"
Bullock lives in Lansing with his dog Renly. 
---
About Lansing Catholic High School
Join the tradition of over 100 years of Catholic education at Lansing Catholic High School. With over 400 students, we are large enough to offer a great variety of classes, activities, and athletics, yet small enough where everyone knows each other. The Lansing Catholic High School community forms students spiritually, intellectually, and socially into faithful disciples of Jesus Christ. For information on enrollment and registration at Lansing Catholic, please visit our Admissions Center.