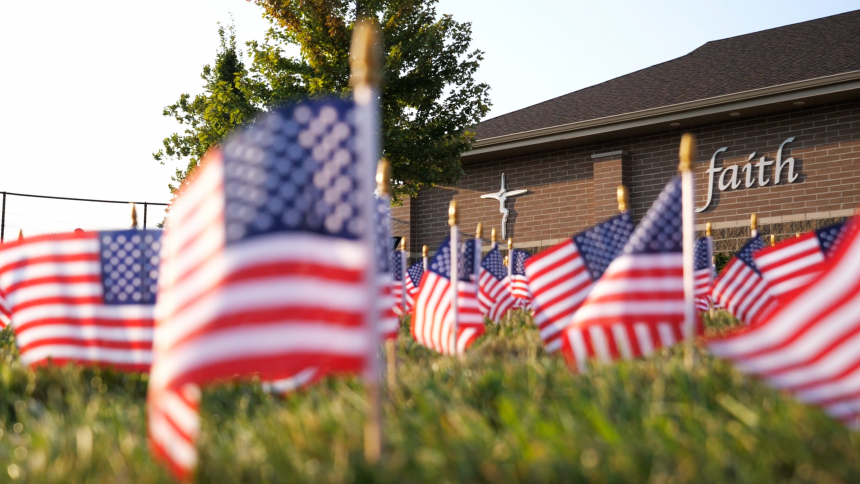 On September 10, Lansing Catholic senior Jonah Richards was hard at work placing 2,977 small U.S. flags in front of his school to honor the lives lost due to the tragic events that happened 20 years ago on 9/11. He placed a flag for each person that was lost that fateful day as a reminder that their memory still lives on.
As a senior in high school, Jonah Richards does not have much free time during the day, but when it came to honoring our nation's lost citizens, he did not give it a second thought.
"I want people to know the importance of remembering those who were lost. We were not around 20 years ago so I think it is important for people to understand the impact that day had," Richards said.
Richards is active in school and holds a lot of titles to his name. He is a football player, club founder, and theater participant with many life goals. Still, his patriotism and faith have called him to action—a fact which has not gone unnoticed by LCHS leaders.
"I want to empower students to find things that are meaningful to our community and I think this is a great way to start," said LCHS principal Krystyn Schmerbeck.
Richards' peers also have taken note, and many stepped up to help him place the flags on school grounds.
"There are so many," said junior Tessa Roe. "It's hard to imagine so many people lost."
---
---
---
About Lansing Catholic High School
Join the tradition of over 100 years of Catholic education at Lansing Catholic High School. With almost 500 students, we are large enough to offer a great variety of classes, activities, and athletics, yet small enough where everyone knows each other. The Lansing Catholic High School community forms students spiritually, intellectually, and socially into faithful disciples of Jesus Christ. For information on enrollment and registration at Lansing Catholic, please visit our Admissions Center.