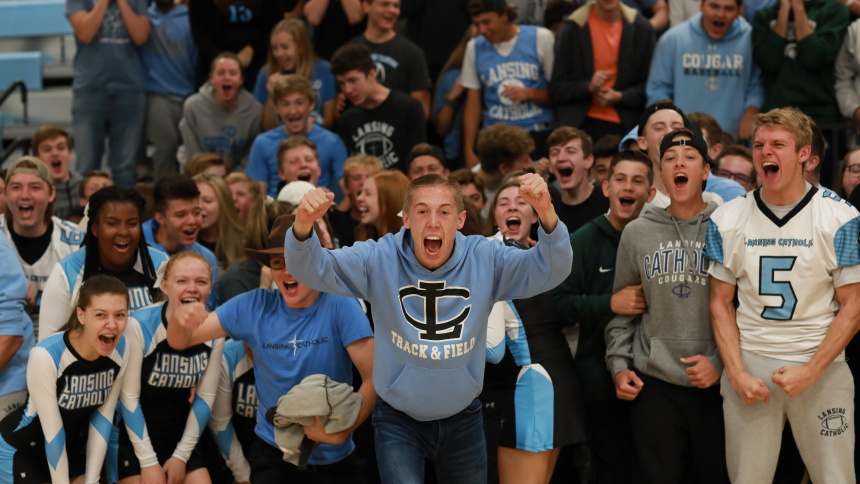 Homecoming week kicked off for students and their families with the annual Powderpuff Football Game and school-wide potluck on September 15.  The Senior girls came away victorious from this year's Powderpuff championship to take the lead in spirit points for the week.  On Monday, students were graced with the completed hallways decorated in their class decade theme.  With their "Boogie in Club Cougar" hallway complete in disco and rock and roll, the Junior class won the hallway decorating contest.  Second place went to the Seniors with their colorful hallway filled from floor to ceiling in bright colors and all things 1980's.  The Sophomores rounded out third place with a rendition of the TV show Friends and other popular items from the 1990's and 2000's, while the Freshmen finished last with their Blast from the 60's decorations.  The school week began with our first all-school Mass in our newly renovated gymnasium.  Throughout the week, the halls were filled with students in spirit day dress and laughter.  Class cheers, spirit games, and the drumline performance kept everyone on their toes and cheering during the Homecoming Pep Rally on Friday, September 20.  During the pep rally, Triple A+ Award recipient, Amanda (Strouse) Surdenik from the Cougar Class of 2004 shared with students her experience at Lansing Catholic and how it has helped shaped who she has become today.  
Friday night, the stands came alive to root on our Cougars to a victorious win over Ionia 35-10 in the Homecoming football game.  Halftime allowed us to listen to the musical talents of our Marching Cougars perform their show "Piano Man" with a series of Elton John and Billy Joel songs, followed by seniors, Ethan Bassila and Ava Farlin being announced Homecoming King and Queen.  Also during halftime, the 2019 Homecoming Honorees, 2003 and 2004 Girls Track State Champs were honored.  Honorees this year included:  Jocelyn Marks, Renee Rademacher, Erin Sachau, Allison Strouse, Amanda Strouse, Liz Watson, Liz Hart, and Head Coach, Tim Simpson.
The closing weekend brought more fun as the students danced the night away at the Homecoming Dance and parents, alumni, and friends were invited to the 14th Annual Cougarfest on campus in Cougar Stadium.  More than 130 enjoyed an evening of community and celebrating another wonderful Cougar Homecoming Week.
Thank you to everyone for making Homecoming 2019 a week to remember!