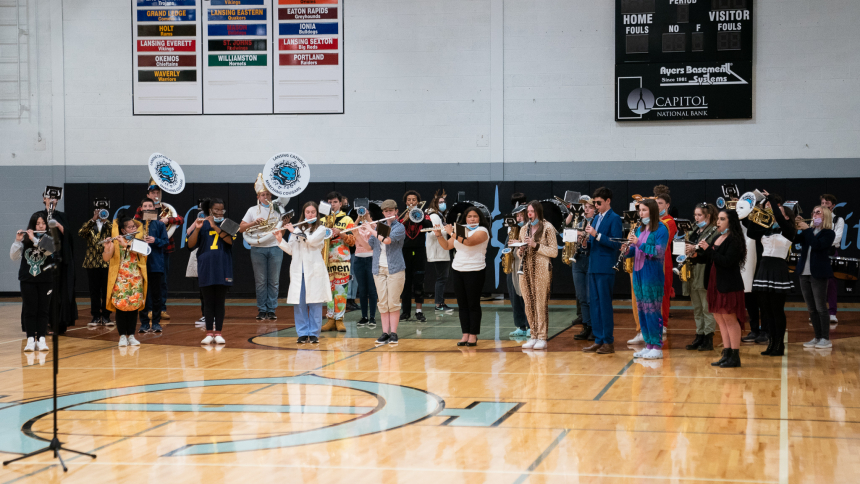 Lansing Catholic High School held its annual Costume Concert on Thursday, Oct. 28. The band performed for the young trick-or-treaters in the area and prior to the concert, the clubs passed out candy to the kids. 
The Costume Concert is a big deal to the students here at LCHS and everyone looks forward to getting out and socializing with the community.
"I was happy to finally have a concert after two years of not having any because of COVID. It was also nice that we were able to perform for the little kids and see all of their happy faces," said junior Katrina Wrezinski. 
The concert went well and the young kids were happy to come into the high school and look up to the older kids in the band performing for them. The students here at LCHS are always good role models for the younger kids in the partner schools. 
"This year's concert did not disappoint at all, even though it was smaller than years before. It's our favorite event of the year being able to watch the kids perform," said parent Stephanie VanKoevering, whose son plays in the band. 
This year's concert seems to be a pretty big hit to the LCHS community and everyone is excited to finally be getting old traditions back. 
---
About Lansing Catholic High School
Join the tradition of over 100 years of Catholic education at Lansing Catholic High School. With almost 500 students, we are large enough to offer a great variety of classes, activities, and athletics, yet small enough where everyone knows each other. The Lansing Catholic High School community forms students spiritually, intellectually, and socially into faithful disciples of Jesus Christ. For information on enrollment and registration at Lansing Catholic, please visit our Admissions Center.