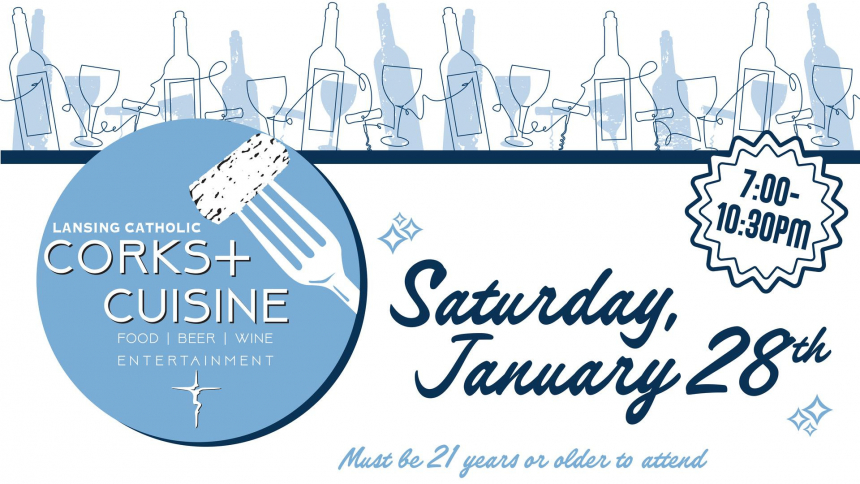 Since 2018, Lansing Catholic High School has been hosting their annual event, Corks and Cuisine, to fundraise for projects around the school. This event is for parents of students and alumni to come together and support Lansing Catholic, and to see all of the things that have been accomplished in the life of the school. Mrs. Paula Wilcox is in charge of planning this event and it is something that she spearheaded when she came to Lansing Catholic in 2016. 
"I was trying to think of something that would be more casual, where our younger alumni might be interested in," Mrs. Wilcox said, "It can be something for everybody." "We were trying to find another opportunity to gather and celebrate Lansing Catholic and the things that the students can do."
The gym is transformed to host the event with various food vendors and a bar participating to make the night a success. There is always music for entertainment, and this year, Corks and Cuisine is featuring a new addition, dueling pianos.
"It's really just about having fun and socializing," Wilcox said.
The idea for the event was for it to be something that would fund a project at the school that could be done within the year. The first year's proceeds helped to finish funding the Fr. Mac fields, next the school tackled the library, then the cafeteria, then teacher needs, and this year, the school plans to revamp the patio outside to create an outdoor learning space for the school. 
Mrs. Wilcox said, "the vision is for students to be able to walk out from the cafeteria…onto this patio for lunches, activities, and classes." 
The school is creating new spaces and updating LCHS with the help of Corks and Cuisine. This event creates community around the school and is helping to bring alumni and parents into the daily life of LCHS.
---
Let's gather to savor delicious samplings of food and drink from area eateries while enjoying the great music, fun activities, and live action all in support of LCHS.
Join us at our 6th Annual Corks + Cuisine event for a casual, relaxed evening with our Catholic community to connect and socialize, but most importantly to have fun!
All event proceeds this year will benefit the design and construction of an innovative outdoor learning space that blends education, culture and community. Help us to RETHINK THE FUTURE and be a part of this special event for Lansing Catholic High School.
$40/ticket
Ages 21+
---
About Lansing Catholic High School
Join the tradition of over 100 years of Catholic education at Lansing Catholic High School. With over 400 students, we are large enough to offer a great variety of classes, activities, and athletics, yet small enough where everyone knows each other. The Lansing Catholic High School community forms students spiritually, intellectually, and socially into faithful disciples of Jesus Christ. For information on enrollment and registration at Lansing Catholic, please visit our Admissions Center.