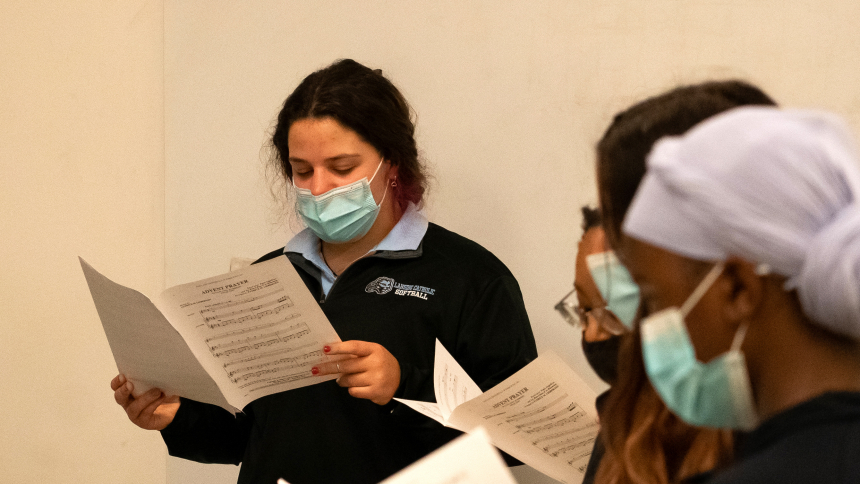 The choir class at Lansing Catholic is practicing every day during the fourth hour to get ready for the four concerts they hold throughout the year. 
Choir class at Lansing Catholic counts as an art credit for students' graduation requirements.
"We have a fall (costume) concert, Christmas concert, February concert, and spring concert. In class we practice for the next upcoming concert," said choir teacher Jan Tietsort.
Tietsort works with the students to get them all in rhythm and sounding perfect for their seasonal concerts. 
"Choir offers an opportunity for us to express our passion for music, and it's a nice interactive class that gets me moving during the school day," said junior Emma Hanson. 
Students like choir class because it expands their opportunities to be more musically inclined.
Join the Lansing Catholic High School choir alongside LCHS marching band, jazz band, and middle school bands and choirs from throughout the Lansing area at the annual Costume Concert on Thursday, October 28. Trick or treat in the halls at 6:30 p.m. and the concert begins at 7:30 p.m.
---
About Lansing Catholic High School
Join the tradition of over 100 years of Catholic education at Lansing Catholic High School. With almost 500 students, we are large enough to offer a great variety of classes, activities, and athletics, yet small enough where everyone knows each other. The Lansing Catholic High School community forms students spiritually, intellectually, and socially into faithful disciples of Jesus Christ. For information on enrollment and registration at Lansing Catholic, please visit our Admissions Center.