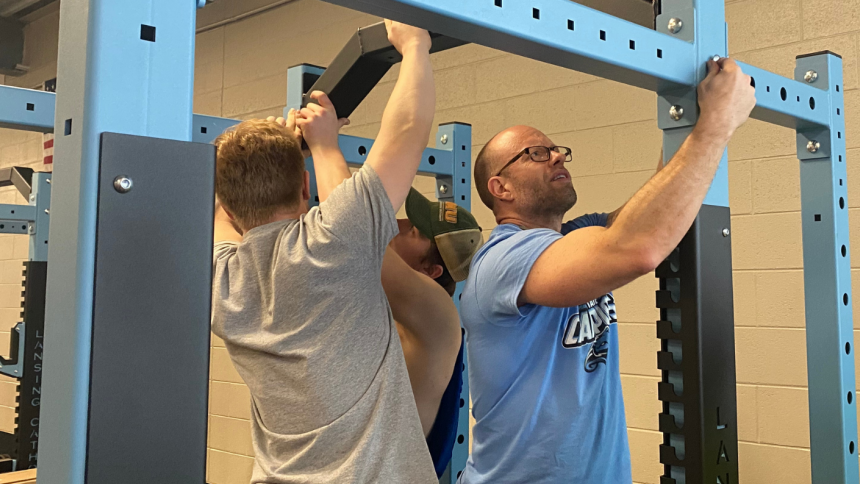 On the weekend of Feb 11th, Lansing Catholic High School got another makeover thanks to a generous donor. Our dedicated student and family volunteers helped set up a new and improved Cougar Athletic Performance (CAP) Center.
Ron Krauss, the strength and conditioning coach for all sports teams, says, "We have a wonderful phenomenal community that we want to let know that we want to help every aspect of a student's life, and help them treat their body as a temple."
When upgrading the CAP Center, there was no shying away from going all in, as they replaced just about everything.
"We replaced seven racks in replacement of five old ones, and nine new benches with the Cougar logo," Krauss said. "Everything is branded with our logo or name, and we have seven new bars plus other new accessories."
The renovation gives a new feel to a place that had started to seem old and dull.
"It changes the Cougar spirit as it is a gym made for us and not just a regular gym," Krauss said. "This makes you feel more at home. It definitely improves the flow and functionality of the space."
Read the Featured Installation article from Dynamic Fitness & Strength. 
---
About Lansing Catholic High School
Join the tradition of over 100 years of Catholic education at Lansing Catholic High School. With over 400 students, we are large enough to offer a great variety of classes, activities, and athletics, yet small enough where everyone knows each other. The Lansing Catholic High School community forms students spiritually, intellectually, and socially into faithful disciples of Jesus Christ. For information on enrollment and registration at Lansing Catholic, please visit our Admissions Center.