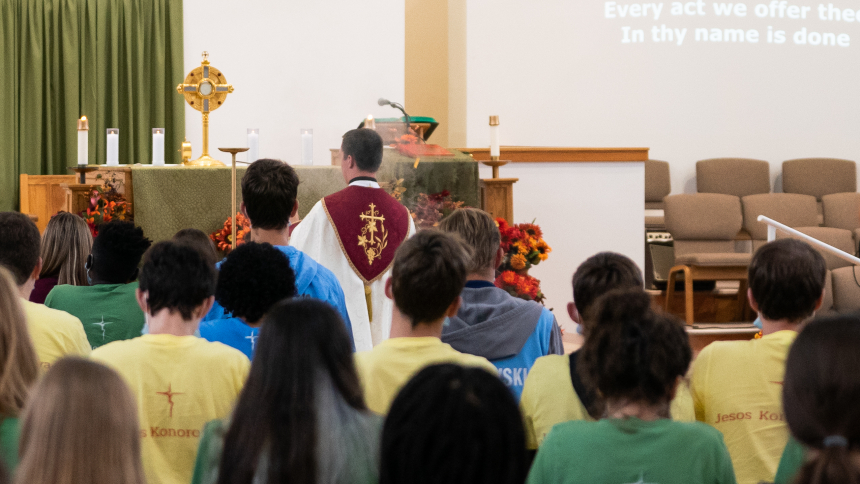 The Lansing Catholic High School Campus Ministry Group held the annual Freshman Retreat at St. Therese Church on Thursday, October 14th.
The Freshman class was able to participate in the yearly retreat, which was led this year by Campus Ministry staff and student leaders.
"It was a huge blessing to have the freshmen retreat after all the uncertainty of the last two years." Freshman Kaitlin Ludwig said.  "I think what made it such an awesome experience was how there were so many people being open to encountering Jesus."
After the cancelations from the previous two school years, a level of uncertainty had arisen within the students and the staff, but, by the Lord's Grace, Lansing Catholic was able to hold one of the most powerful retreats yet. 
"I thought the retreat was a very powerful experience for all of us there. The time of Adoration was especially deep and moving, and the testimonies given by the upperclassmen were both inspiring and encouraging." Ludwig said.
The Campus Ministry Leadership Group, or L2, was able to bring in their student leaders to help guide, encourage, and awaken the Freshman to Jesus Christ and all that the Lord has for them through actions, testimonies, and leadership.
"I was happy to share my testimony and I am hopeful that the freshmen could relate to my experience so they could grow closer to the Lord! Testimonies are important especially when people can relate to one another through a testimony. When others can relate to a testimony, practicing the faith becomes easier." Junior Charlie Gates said.
It was not only a powerful experience for the freshman class, but for the upperclassmen as well. Through their struggles of the past couple of years, a retreat is something they had been looking forward to bringing a sense of a fresh start for the freshmen.
"It was a great blessing to be able to lead the freshman retreat! These retreats are a big part of spiritual growth for the freshman and I am glad that they were able to have such a great opportunity to experience God's presence and love for each of them. Being able to take part in that experience was special," Gates said.
It was a great time for all those who participated in it. Many wish to continue these events not only in this school year but in the entirety of the school's future.
"I hope that in future retreats people can continue to experience the Lord in a personal way. This happened at the freshman retreat, making the retreat a big success. The first step to experiencing the Lord at a retreat is being open to whatever the Lord wants to do. Once we inherit this spirit of openness God can come into our hearts and do incredible things that can change us forever," Gates said.
The leaders, freshman, and student body hope to continue these retreats and ride in the wake of the spiritual influencers that have guided them to do what they are doing right now to create excellence within the school.
---
About Lansing Catholic High School
Join the tradition of over 100 years of Catholic education at Lansing Catholic High School. With almost 500 students, we are large enough to offer a great variety of classes, activities, and athletics, yet small enough where everyone knows each other. The Lansing Catholic High School community forms students spiritually, intellectually, and socially into faithful disciples of Jesus Christ. For information on enrollment and registration at Lansing Catholic, please visit our Admissions Center.