Marilyn (Smith) O'Brien
O'Rafferty Class of 1965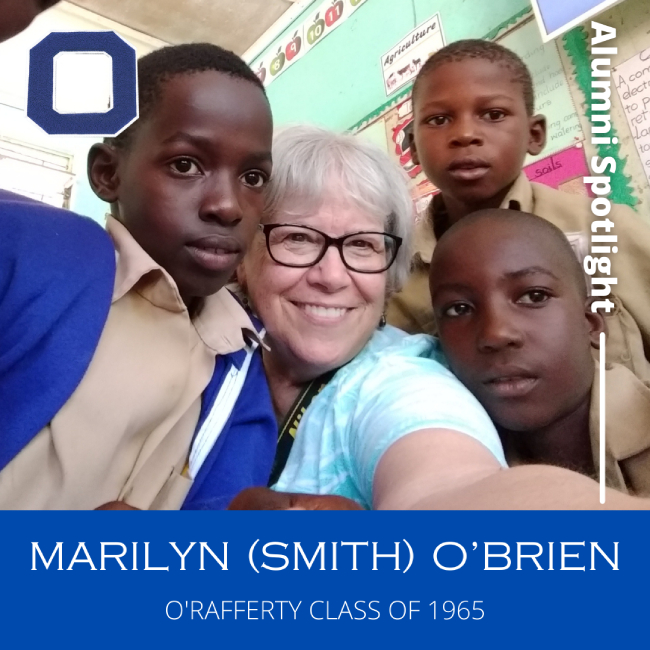 What's your name and when did you graduate?
My name is Marilyn (Smith) O'Brien and I graduated from O'Rafferty High School in 1965.
What are you doing these days?
After graduating from MSU in 1970, I began teaching Geography in Montgomery County, Maryland, just outside Washington DC. After six years I was accepted into a special program for Special Education. I earned my Masters and worked in schools following that. After ten years in education, I moved to a position as Photography Assistant to a commercial photographer in the area. This led to an eleven year stint at US News and World Report as a Photo Editor. To finish out my working life, I returned to the classroom and taught History to Learning Disabled students. During these working years, I spent every vacation traveling throughout the world. My husband, Michael, and I have been to China, Mongolia, Vietnam, Hong Kong, Australia, New Zealand, the tip of South America, Argentina, Uruguay, some Caribbean Islands, Canada, most of Europe, Dubai, Zimbabwe, Zambia, Botswana, and South Africa. Plus throughout the US. When at home (and before COVID), I have devoted my life to a group called The Ring of Kerry Irish Dancers. It's a social dancing group which holds classes, performs throughout the area, travels to Ireland, and works to promote the Irish culture. I have family close by and spend lots of time with them now that I'm retired. We have four grandchildren and several nieces and nephews. I was delighted when my niece was confirmed and took Elizabeth Seton as her Confirmation name.
What is your fondest memory of your time at O'Rafferty as a student?
I enjoyed playing basketball. We rarely won, but I loved the experience of being on a team, traveling to other schools, and learning new skills. I continued this interest as an adult and have been a member of the University of Maryland's Women's Basketball team booster club for 30 years. I've served as President and currently write a column, called Spotlight, for the website.
What activities were you involved in as a student?
Cheerleading, Girls Basketball and Softball, President of Mother Seton League, Chorus.
What staff person/teacher inspired you, and how?
Sister Maria Julia . She was very kind to me. I enjoyed helping her in the classroom on Saturday mornings.
How did your time and experiences at O'Rafferty prepare you for your life or work? 
I learned to manage my time, study hard, and take education seriously. These skills are served me well throughout my life.
What made O'Rafferty unique among high schools while you attended?
O'Rafferty sat all by itself on Saginaw Street when it opened in 1963. After all those years at St. Mary's, the shiny new school was very exciting.
Editor's Note: Marilyn is pictured with students from St. Mary's Catholic School in Zimbabwe. They even have the right blue!
To see previous Alumni Spotlight's, click on the tag below.