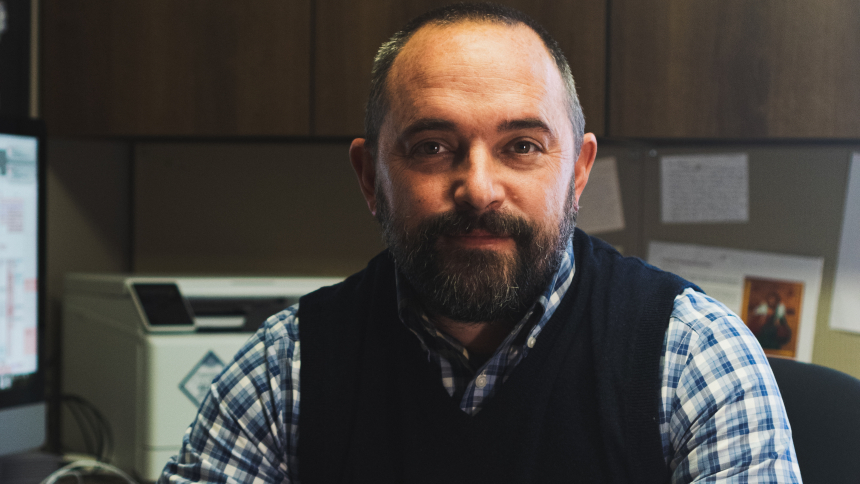 His goal is simple.
"I want to help Lansing Catholic High School become the best Catholic high school in the world," says LCHS President Dominic Iocco. "We shouldn't settle for anything less."
Now in his third year on the job, Iocco is revving the school's engines—and changing the tone of daily life for students and educators alike. His relentless focus on mission, coupled with numerous essential changes at the administrative, staff, and student levels, have shifted the mood and renewed the school's energy and focus on excellence.
Following the departure of former Principal Krystyn Schmerbeck last spring, Iocco made the innovative decision to alter the administrative structure, aligning it more closely with the school's mission. Instead of hiring a new principal, he appointed three new deans, one focused on each area of the school's mission: spiritual, intellectual, and social formation.
Iocco himself has transformed the role of school president into one that is far more hands-on when it comes to the daily life of the school and its learners.
"I think it's worked really well so far," Iocco says. "Does it make my job a little bit harder? Yes, but it's also enabled me to have more direct interactions with the students and with the families, which I think is important."
So far, feedback from families has been positive. Diane Spence has been a Lansing Catholic parent for over seven years and has seen the traditional format as compared to this mission-based structure.
"The role of a school principal is endless, overseeing all educational and behavioral aspects of the school. With a school run by three deans, our students' needs are better met. The deans' roles are defined and specialized to a certain area of student life," shared Spence.
"I've heard lots of good comments," Iocco said. "At homecoming, for instance, people were saying, 'I don't know what you guys are doing here but this is amazing, keep this up.' So to me, that was good testimony to the culture that's being established. People are seeing it.
"And from teachers, particularly those that have been here for a number of years, I'm hearing that this is the best start to the school year they've had, or that they have felt rejuvenated in what they're doing and why they're here."
"A strong community and family atmosphere has always set Lansing Catholic apart from other schools, but this year is different," says freshman algebra teacher and alumna Christen VanNewkirk. "Faculty, staff, students, and parents are all working together as a cohesive unit. It's been energizing."
But Iocco is not done.
"I would say there's still a good deal of transformation that's needed," Iocco says. "Moving forward, there will likely be much less structural transformation at Lansing Catholic, but there are still areas that we need to improve. To me, we're never going to just have it. We've always got to be improving."
Intellectual Formation Is a Priority
At this moment in the school's history, Iocco says the primary area of focus needs to be on intellectual formation. He says across K–12 education as a whole, results have been declining steadily.
It's a trend he's ready to break.
"For a long time in Catholic schools, we've followed what public schools do, and that needs to stop," he says. "So I think we have to ask ourselves, what are we striving for? What are we preparing these students for? And how do we get them there in the most effective way possible? Couple that with the fact that, now after COVID, you're going to be dealing with for at least the next six to eight years where you may have had, let's call it a three-foot range of learning abilities in a typical class. Now it's going to be 10 feet because different students missed different parts of their academic growth throughout the COVID experience."
During the past year, Lansing Catholic has focused extensively on literacy as an area of emphasis, retaining reading specialists as a means of supporting learning gaps.
"Reading has been sorely neglected," Iocco says. "We let students come through that really have only found ways to cope with reading, which makes test taking that much harder and leads to more anxiety. And so we've got to find ways to address those things much sooner than we are now."
Social Formation Emphasizes Student Well-Being
"There's a lot of social ground to make up," Iocco says. And he's not just talking about the pandemic. Even before COVID disrupted the lives of LCHS students, the number of students struggling with mental health concerns had dramatically increased over the past two decades or more.
"How we're not making a bigger deal about the huge epidemic of anxiety, depression, and suicide is baffling to me," Iocco says. "The idea that 10-to 14-year-olds' second leading cause of death is suicide is astounding. And for me, I believe a lot of that is the social isolation from the introduction of digital media and social media, where we feel like we're connected, but we're not really connected to anybody in the ways that matter most."
To alleviate some of these pressures during the school day, Lansing Catholic doubled down on their no-cell-phones policy in its classrooms this year. The school also is working to operate more holistically, in ways that allow clubs and activities, athletics, and academics to build on one another more effectively.
"We need to keep in mind the broader social picture of all of these things we do, so they can be united and working toward the same thing, helping reinforce everything that's happening in the classroom and everywhere else," Iocco says.
Spiritual Formation Focuses on Growth
While LCHS is grounded in the Catholic tradition, its student population is incredibly diverse.
"We have everybody from pure atheists to multiple different religions, to Catholics that take their faith really seriously. Trying to meet the needs of all of them spiritually is going to always be a challenge," Iocco says. "So how do we do that in an effective way that helps all of those students, no matter where they're coming from, grow in their spiritual life?"
There are no easy answers. But Iocco is committed to the idea that the school will meet students where they are and cause them to think deeply about their spiritual development.
He's also working to support LCHS staff members in their growth.
"It is easy to focus on the people you're serving and neglect the people that are doing the serving," Iocco says. "And so we have to keep in mind: 'What are we doing to form our teachers?' We must work to create opportunities for our team members to get some edification themselves rather than just getting burnt out trying to do these things for the students."
What's Next for the Cougars?
Lansing Catholic is doing a solid job of drawing students from across mid-Michigan—particularly among public school and homeschool students. The care and attention we are able to give students has made our community stronger than it's been in some time. Enrollment is up 3% this school year after being on a decline since 2017.
But Iocco says there are still needs that must be met.
"Contributions today are more important than ever," he says. "We will probably have to provide $520,000 to $560,000 of financial aid this year for students that couldn't afford to come otherwise. And I think with where our economy is and where it's going, that need is going to become even more significant. And we always try to tell people, 'Look, don't let finances stand in the way', we'll find a way. But the reality is that, 'that does end up having a cost.'" Because at the same time, to get the caliber of teachers we want to have, we must be willing to pay competitive rates."
Given the team that's already in place this year, Iocco has made solid progress on attracting and retaining the staff he's hoping for. It's just one more piece of the puzzle for him.
After all, he's about community first.
"The strength of our community really dictates everything else. And so to me, it is the community that's probably our greatest overall strength," Iocco says. "I will always be proud of that, and look for new and better ways to be a school that merits such strong support."
Read this article and more in the Fall/Winter edition of Lansing Catholic High School publication Totus Tuus. 
---
About Lansing Catholic High School
Join the tradition of over 100 years of Catholic education at Lansing Catholic High School. With over 400 students, we are large enough to offer a great variety of classes, activities, and athletics, yet small enough where everyone knows each other. The Lansing Catholic High School community forms students spiritually, intellectually, and socially into faithful disciples of Jesus Christ. For information on enrollment and registration at Lansing Catholic, please visit our Admissions Center.