Lansing Catholic alumnus, Class of 1974, and survivor of the September 11 attack at the Pentagon came to share his experience with Lansing Catholic High School students on Sept. 15.
Steve and Joyce Wahoski showed photographs and explained the tragic events experienced by many, as well as the lingering effects on not only theirs but a lot of people's spiritual lives.
Although apart during the events of 9/11, they have the same passion for sharing the importance of such a tragic time. While the talk was largely fact-based, their faith was also a significant topic of discussion. 
"I was a mile and a half away at a staff meeting at 9 am when a coworker came in asking if we had any family traveling into New York City today." Mr. Wahoski said. "It had been a glorious day, a perfect day until we got that news."
Wahoski then called his wife, who was standing in a post office in Michigan.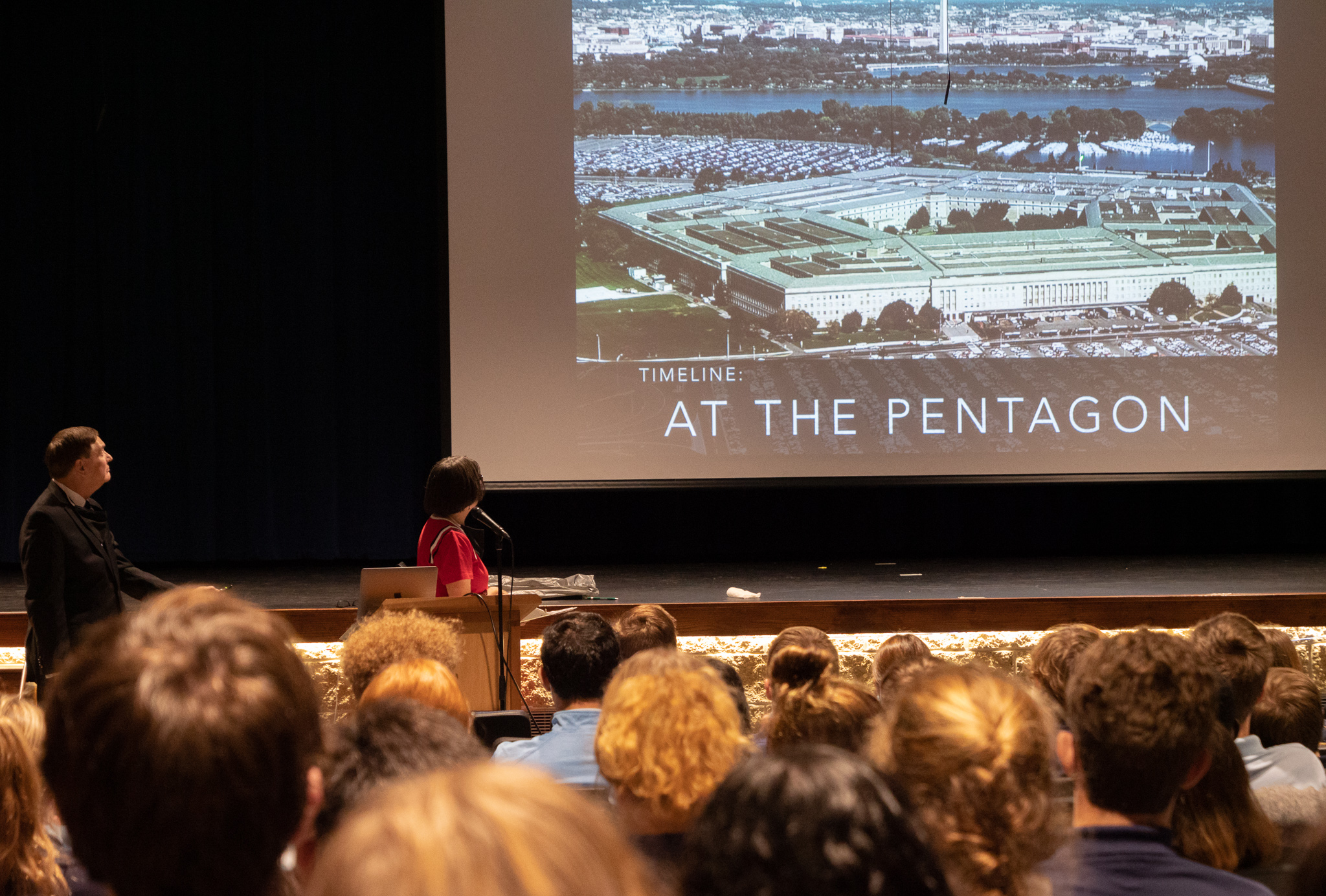 "I wanted to let her know I was okay," he said. "There were so many heroes in our faith community that day, from Father Mychal Judge to Father Stephen McGraw and it was really amazing to see how they stepped up in such a scary event."
The Wahoskis believe the Catholic faith played a big role in most people's recovery from 9/11. Of the funerals held for the firefighter victims, 90 percent of them were held at Catholic Churches.
"I think that his faith has helped carry him through it," Wahoski said when speaking about a friend, but he acknowledged this could also be said for many.
Wahoski said Father Judge did just what he preached on that terrible day. After hearing the crashing of one of the twin towers from a block and a half away, Father Judge did what no one else did— he ran to help people in the midst of their suffering. 
And he was not alone among his Catholic brothers.
"I just knew I was meant to be there," said Father Stephen McGraw after he witnessed the crash into the Pentagon, and ran over to help those in need. "People needed to know there was some representative of God there."
Today, Wahoski and his wife still live in Virginia.
"We want to show kids today who weren't alive before 9/11 the freedom they missed out on, and how much this event altered our everyday lives," Mr. Wahoski said when asked why he chose to share this presentation. 
"It was cool to learn more about what this country has been through, and what has shaped it into what it is today," said Sydney Buda, a senior at Lansing Catholic.
---
About Lansing Catholic High School
Join the tradition of over 100 years of Catholic education at Lansing Catholic High School. With almost 500 students, we are large enough to offer a great variety of classes, activities, and athletics, yet small enough where everyone knows each other. The Lansing Catholic High School community forms students spiritually, intellectually, and socially into faithful disciples of Jesus Christ. For information on enrollment and registration at Lansing Catholic, please visit our Admissions Center.