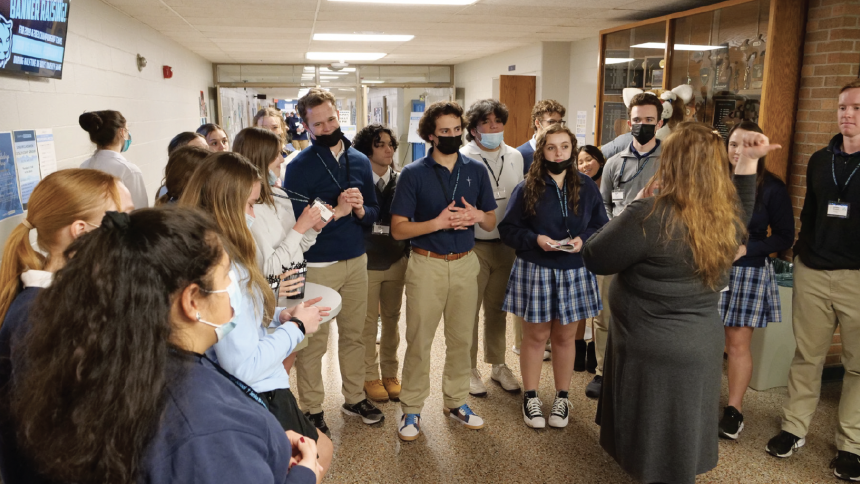 Here at LCHS, one of the many amazing opportunities the student body gets to be a part of is the school's Ambassador program, led by Stacia DeVries.
Students are eligible to become Ambassadors beginning their sophomore years. Every LCHS student reading these words right now is therefore eligible beginning next fall.
As a dedicated Ambassador for the past few years, I can't say enough about the program. To help encourage others to take part, I've kept a little diary of my experiences—read on to see all the fun you can have!
Getting Started
To be considered as an Ambassador, students must complete a short survey. I was asked to talk about who I am as a person and why I think this is a program for me. If you know me, you know I am HIGHLY social. It's pretty much a no-brainer for me to be talking to everyone, showing off our school.
Once accepted, I got an email with the class code to join. This way, I can see all the different events available throughout the year. Almost every event that Ambassadors volunteer for, the dress code is always uniform—that makes it super easy.
I got a lanyard with my name on it and before every event, there is an alphabetical board clip where I could sign in. Everyone has to sign up for at least four events a semester, and as a bonus Ms. DeVries will put a star on your lanyard at the end of the year to recognize your achievement. It's kind of a big deal, just sayin'.
Ambassadors always are needed for events such as prospective family night, middle school visit day, mobile food pantry, and our annual costume concert.
Prospective family night is an event where future Cougars and their families come and get a full tour, led by LCHS Ambassadors. Each department has an educator on hand to talk about all the classes students can take in that subject, and any extracurricular activities that could relate to that subject.
Middle school visit day also takes place at our school, and it allows middle schoolers to experience time with Lansing Catholic students and get a feel of what it is like to be part of our community. It includes fun activities for middle schoolers such as group talks, games, occasional prizes and of course lunch is provided.
Our annual costume concert is a family-friendly event that lots of students love to participate in. Before the concert begins, kids get a chance to go around and collect candy from the school.
After that, comes the band/choir concert which is performed by LCHS students. It is definitely an Ambassador favorite because it's heartwarming to see all the kids in their costumes excited to receive candy and it is the one time that Ambassadors can too wear a costume (score!).
Lastly, I like to take part in the mobile food pantry work as an Ambassador. It is a very common event, as it happens at least three times a year, and is also a favorite event of mine by far.
At the event, we always provide breakfast and hospitality to all our guests. We then distribute tons of food to almost 600 households and it is always a bittersweet experience seeing the joy on everyone's faces, because we are coming together and doing service which is a very important part of our Catholic life.
Even though this counts towards service hours, most volunteers never come for just that reason, but because we genuinely enjoy coming together as a community and bonding together over the little things.
In addition to these four main events, there are many other opportunities you can sign up for when you enroll to become an Ambassador.
As an Ambassador for three years, I encourage everyone to take part in this opportunity to serve and unite. It is such a great opportunity and a chance to work on your social skills and make lifelong friendships.
---
About Lansing Catholic High School
Join the tradition of over 100 years of Catholic education at Lansing Catholic High School. With over 400 students, we are large enough to offer a great variety of classes, activities, and athletics, yet small enough where everyone knows each other. The Lansing Catholic High School community forms students spiritually, intellectually, and socially into faithful disciples of Jesus Christ. For information on enrollment and registration at Lansing Catholic, please visit our Admissions Center.